Trekking in Patagonia, Argentina & Chile
When we started our mountain guiding company in 1998, our idea was to do mostly Andes Crossing trips;  whether by foot, skis or mountain bike.  Today, this guided trek is one of our signature adventures.


Andes Crossing Trek
Trekking Across South America's Andes Mountains in the Patagonian Lakes District of Argentina and Chile
Hiking Season: December through May
Duration: 11 days
Level: Moderate to advanced trekking: Average day includes 10-14 km (4-6 hours) of hiking with approx. 600 meters elevation change. We will be carrying all of our food and gear in our packs, but for a lighter load, porters are available.
Crossing the Andes is one of our most complete trekking trips, with a huge variety of landscapes, flora, and fauna, and it includes the great experience of crossing the Andes 70% on foot! Traveling east to west over the Cordillera de los Andes, we start this guided hike in the Lakes District of Northern Patagonia. From San Carlos de Bariloche we make our way across green valleys, high meadows, alpine lagoons, ridges, and saddles until we come to the Pacific Ocean in Chile. Along the trek, most nights will be spent camping in tents or staying in rustic mountain huts. We will hike below the impressive Mt Tronador (3554 mts), which is the highest peak of Nahuel Huapi National Park. Huge hanging glaciers create beautiful waterfalls landing in the valley and forming glacial rivers and lakes with emerald-colored waters. After a few days in the backcountry, we will cross the frontier between Argentina to Chile. After crossing the border the vegetation changes dramatically into a very humid Valdivian Forest. Then, some boat crossings to Petrohue, Puerto Varas, and finally Puerto Montt at the Pacific Ocean. While cruising the lakes, there are excellent views of Volcano Osorno and Volcano Puntiagudo.

Open map of the first part of the trek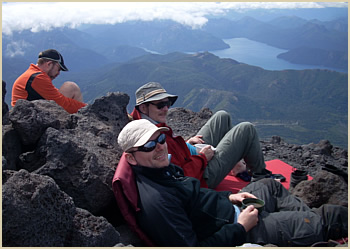 Day 1:
Arrival to Bariloche, Argentina. Meet your mountain guides. Gear check. Welcome dinner.
Night in a Bariloche hotel.



Day 2:
Drive 20 km out of Bariloche to start our trek into Argentina's Nahuel Huapi National Park. Hike with our guides to Refugio Laguna Negra, a cozy mountain hut surrounded by a basaltic black peak and a deep blue lagoon.

Night in tents or hut.



Day 3: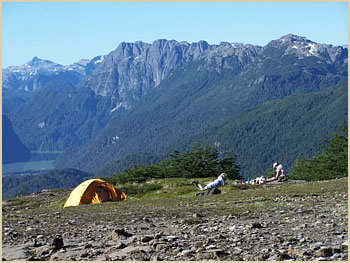 Early start from the mountain hut, heading to our first saddle with stunning view of the Andes, Mt Tronador, and a few other volcanoes in Chile. Hike down the valley and then ascend to Laguna Cab. A couple more hours to until your mountain guides set up the next camp.

Night in tents.



Day 4:
We start the day by going around a few alpine lakes, and then through high meadows until we climb to a beautiful ridge with quartz crystals. Views of Mt Tronador (highest of the area at 3554 mts). Some scree slopes to deal with on the descent and then we will find a nice camping spot to watch the sunset.

Night in tents.


Day 5: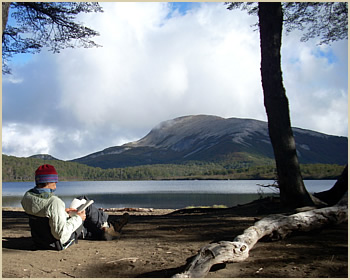 We climb on mellow granite domes that take us all the way to the ridge. Your mountain guide will take you past a few bright blue alpine lakes surrounded by granite walls. Hike down from the ridge brings us back below tree line. Camping beside Laguna Ilon's sandy beaches. Great spot for a swim!

Night in tents.



Day 6:
Hike down to Pampa Linda, a cute little mountain village at the foot of Mt. Tronador in the middle of the Nahuel Huapi National Park. Refresh with a shower and a nice dinner in the beautiful, family-owned Hosteria Pampa Linda.

Night in Hosteria Pampa Linda***



Day 7: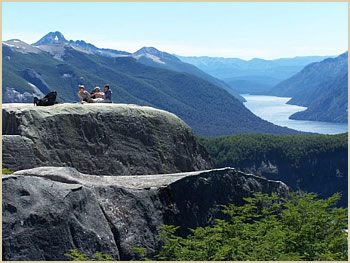 Rest day. Relax and enjoy the sights and sounds of Tronador's amazing hanging glaciers or go on a short hike with your mountain guide.
Night in Hosteria Pampa Linda***

Map of second part of the trek




Day 8:
Continuing on from Pampa Linda, your mountain guide will take you hiking below Mt. Tronador's Alerce Glacier and its many waterfalls. We climb to a 1400 meter pass and then down to the Frias Valley. Camping near the hanging Frias Glacier you can hear impressive chunks of the glacier fall of the cliff.

Night in tents.



Day 9: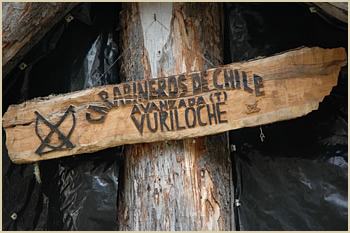 We will follow the River Frias down it's narrow valley that is thick with vegetation like bamboo and massive 200 year old trees. After 4 hours of going through the jungle, the trail emerges into the sunlight beside the stunning emerald lake, Lago Frias.

Night in tents.




Day 10:
Bus ride across the border to Chile, and then a relaxing boat ride along Todos los Santos Lake with views of the volcanoes Volcan Osorno, Volcan Puntiagudo, and Mount Tronador. Reception in Chile. Drive to Cabañas. Now we are in Chile and almost at the ocean!!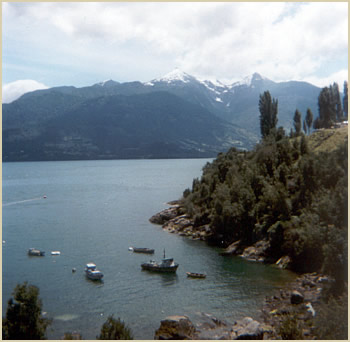 Night in Cabañas.




Day 11:
Drive to do a little tour of the cities of Puerto Varas and Puerto Montt. Drive back to Bariloche, Argentina. You can end in Puerto Montt, Chile if it is a better fit for your travel plans.

Night in Hotel.

End of Services.

For this trek, we strongly recommend hiring a Professional IFMGA UIAGM or AAGM Mountain Guides.
Rates: Minimum 2 people.
Includes: private transportation, Professional AAGM or UIAGM Mountain Guide, all meals and lodging in the mountains, tents, 4 nights in hotels, boat crossings, and cookware.
 * If you'd like to carry a lighter load, Porters are available for US$ 80/ day.
These are only few of our favorite multi-day guided hiking and trekking options in the Bariloche area of Argentina that we have to offer with our Professional AAGM or IFMGA UIAGM Mountain Guides. There are endless possibilities for day hikes in the Andes of Northern Patagonia. We are based in Bariloche, but we can also arrange a customized guided hiking trip to the areas of Lanin National Park, El Bolson, Trevelin, Esquel, San Martin de los Andes, or near the Chilean border at Paso Puyehue, among many other places a bit more remote to avoid crowded trails and get off the beaten path! Andescross also has mountain guides available in Southern Patagonia, El Chalten (Fitz Roy and Cerro Torre area) and El Calafate for multi day trekking and backpacking. Please contact one of our experienced mountain guides at info@andescross.com.




Home
What is UIAGM?
Trips dates calendar
What is Patagonia?
About us
In the news
Film productions
Backcountry ski touring
Trekking
Mountaineering
Rock climbing
Heliskiing
Worldwide adventures
Mountain bike
Private guiding
Contact us
Join a Group Trip
Patagonia Trip Notes
Souvenir & Rentals
Photo Gallery
Interesting links
Versión en Español






Andescross latest news
on our blog!





Andescross team is supported by:
map name="Map2">