Client Testimonials
Andescross Guiding Services in Patagonia, South America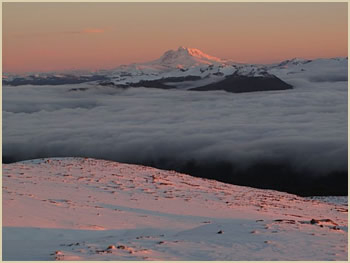 Our clients at Andescross are of all ages and range from couples on their honeymoon, families, groups of friends, and lone travelers looking to experience the best Patagonia has to offer.

We are happy that most of our clients return to Patagonia for another trip with us, or we meet them in a different part of the world for a new adventure!  Because all of our guides speak Spanish and English as well as some of our guides also being fluent in French, Italian, and American Sign Language, most of our clients come from Canada, the United States, Europe, and Argentina.

Check us out on Trip Advisor, or we have many previous clients who would gladly offer their counsel and we can put you directly in contact with someone who has done the trip you are interested in.


A little story about our adventure trek with Mr Brooks in Patagonia.
Our mountaineering client, Ken, writes about his summit of Aconcagua at 70 years old:

"We would also like to thank you, for all the work you did for us on this trip. The service you provided was outstanding. So much better than what we received a year earlier from another company. Edwardo & Louis are spectacular guides and friends. They never failed to meet our expectations, more often they exceeded them in fact. We can't say enough kind things about them.

Eduardo was extremely conscience in dealing with every detail of our climb. I was especially impressed with the care he displayed with regard to my minor blood pressure problem. Early on he carefully monitored my condition once and sometimes twice daily. His kind, sensitive, and very skillful leadership and willingness to teach us new techniques allowed us to learn new skills which contributed greatly to our climb and my successful summit attempt. His gentle encouragement, urging, and advising was the physiological boost I needed to draw on every reserve of strength to make the summit." Sincerely, 

Ken and Erick, New Jersey, USA  January, 2009
"This is a Testimonial on behalf of Jorge Kozulj of Andescross –Mountain Guiding Patagonia.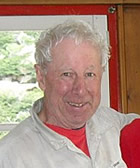 I had the pleasure of meeting Jorge in December 2008. My wife and I were in Bariloche, on holiday in Argentina. Jorge had been recommended to us by a climbing friend back home in Canada. I was able to contact him by phone and we worked out a rendez-vous at the Refugio Frey for a day's climbing on the rock. His knowledge of the area and the realistic time needed to complete various options, made it easy for me to reach a decision. What followed was one of the best days in the mountains that I have experienced over a lifetime in the sport.

Jorge has excellent personal skills and appreciation of my climbing abilities. Our day was more like two climbers well matched on our multi-pitch routes. At all times I felt comfortable and secure. We genuinely enjoyed each others company and discussed many issues common in the mountaineering world. We were blessed with a dazzling spring day and were close enough to the Refugio to break for lunch between routes. At the end of the day, tired and happy we descended to the valley where Jorge very Kindly drove us back to our accommodation in Bariloche."

Brian, 65, Irish – Canadian climbing legend of Squamish, Canada
www.squamishrockguides.com
"Hope you are doing great! Travis and I wanted to thank you again for such a great trip we really appreciated everything you planned for us. We are adjusting back to our regular everyday world ok I guess, but missing Argentina big time, and you of course."

Kelley and Travis Spikes, Seattle, Washington, USA- Sept 08
"Hi Jorge, Had a FANTASTIC time and thank you so much for all your help and the great guides. Great meeting you!!!!
We are in BA, but head to Brazil tomorow and am just going to eat, drink and sleep!
Anytime you head to Europe, you always have a place to stay in London and hopefully we will be back SOON!"

Thanks again,  Sacha, London, UK, January 08
"Hi Jorge,
It's been incredibly busy since returning to the states. But it is still very clear in my mind the awesome experience we had biking with German. He taylor made our ride taking into consideration our needs throughout the day. The river valley is absolutely stunning and so was the service we received. German is kind, informative, attentive and, as a bonus, fun to look at!
Lunch was super...we were well fed and felt like queens with all the culinary delights he prepared. Next time to Patagonia I will be better prepared for longer rides and you can be sure that I will choose and recommend Andescross for many outdoor excursions. Thank you again! You've done a wonderful job with your company and all your adventures."
Sincere thanks, 

Laurel and Michelle, USA, November 2007
"Hola Jorge,
How is everything in beautiful Argentina? I miss it very much already! Here in Vancouver it is dark, rainy and cold. My suntan and wonderful memories will keep my spirit in Argentina! The bike trip was the highlight of our vacation; so many wonderful experiences and beautiful scenery; all in the company of two very charming Argentines… the perfect vacation! I know you say you don't want to be a big-time business guy, but I will certainly be telling everyone about your company! Big hugs to you and Lucas and be sure to keep in touch."

Kathleen, Vancouver, Canada, Feb 2007
"Hard to believe that yesterday I was there and today I am home. There is laundry spilling out of every room, an empty refrigerator, mail to open, work waiting at the office, dogs looking at me to take them for a hike, dinner to figure out for tonight and no Lucas saying, "Sue, would you like some tea?" .....see below!

"So, before life moves on at the speed of light, I want to tell you both some thoughts that there was not time to say when we left. First, a great trip- a magical trip. There hasn't been enough time to think about all the beauty that my eyes beheld. Right now I am looking at the framed photo of Cerro Torre that Dave took last year (I never tire of looking at it) and can't imagine how to sort out all the new images from this trip. So spectacular! I am afraid that I will have to sneak out of bed each night to go to my computer and look at the pictures again and again and again. But there was something different about this trip that made it even more difficult to leave.... "So, my South American brothers, I miss your smiles and hope that you have many safe and wonderful travels that bring you peace and fulfillment".

Sue, Lewisberry, Pennsylvania , April 2006
"Jorge, we had a great time. I expected the trip and experience to be good but it turned out to be a great trip.
Thanks a lot!"

Dave, CT, USA , April 2006
"Jorge has been extremely helpful and responsive and very versed about the culture, when it comes to providing information and pictures of the region and both my wife Joan and I can not wait to climb with him next summer. We have used numerous guiding services throughout Canada, So America, Europe, Alaska and the lower 48 of the USA & an honestly say Jorge and Andescross as informative and courteous as any."

Al and Joan, New Jersey, USA , Sept 2005
"I just wanted to say a big thank-you for the trekking trip - it was really well organized, with a fantastic route, good food, good company, and it certainly did not feel like a mass-produced tourist trek! I have really enjoyed my time in Bariloche, and will be sure to come back again.....when? I just don´t know.
I will definitely look up Andescross again, and recommend it to anyone coming in this direction."

Sarah, England, UK
"Jorge, Thanks so much for the information. We got in touch with Merlin, and hopefully will be able to arrange something with him. Unless you are able to remain in El Chalten for an extra week or so to guide us..... Hope everything is going well in your course. We had a great time on Tronador, thanks for the expert guidance."

Best, Jen and Kevin, Washinton DC, USA
"I look forward to whatever you recommend. After such a great time mountain biking and climbing last November, you guys have my complete confidence for the best in adventure travel!"
Best Regards, 

Geoff, New York City, USA  November 2003
"Jorge: Yes, I will always remember the trip as one of the BEST. Getting over the Catedral was an accomplishment to feel good about, once I was at the TOP!!!! If you guys were not so attentive to us it would not have been as much fun. Your choice in Friends and assistant guides was Superb!!!!!!!! See ya,"

Mary Ann, Colorado, USA, January 2002


"Again, the trek was totally wonderful. The experience truly exceeded our best hopes for the trip. We really appreciated your guidance: you picked a spectacularly beautiful route that was just the right physical and technical level for us. We felt a sense of accomplishment each day and at times were stretched, but never overwhelmed. We felt safe but not over-guided. And it was really great to get to know Jorgito. Both of you were fun and it was enjoyable to spend 5 days with the two of you. And I don 't know how many people I could say that about!

Thanks again for a great vacation and I hope we will see you again some time in the future. Stay in touch and do let us know if you are ever in our neck of the woods. We would love to show you Maine's wonders...very different than Patagonia's but just as beautiful!"

Best wishes,  Ellen, Maine, USA


I found Andescross on the web and got a very warm, fast and informative response from Jorge. Since then I have been on two ski mountaineering trips with Jorge including a section of the Haute Route from Chamonix and a three week expedition to Patagonia where we climbed 3 ski peaks including a life changing experience on the South Patagonia Ice Cap.

What I liked about Jorge from the start is his passion for what he does and his love of the mountain environment in which he is blessed to work. Mountain guiding is an extremely hard profession - you are "on duty" all the time in the mountains because weather and terrain can constantly challenge the group and the guide and necessitate continual risk assessment decisions. If anyone reading this has ever doubted the value of an experience guide like Jorge, then you have not been scared enough on a mountain - I have, and when it happens you realise that these guys quite simply keep you alive if the going gets tough.
The guide also has to quickly understand his clients skills and fitness levels and juggle all these factors in the often difficult conditions. Jorge is an excellent guide because he does all these things with a positive, happy disposition and great humour. Communication skills are also really important and he will often confer with the group to explain risks and options that are ahead - getting this communication right, as Jorge does, means that the mountaineering experience is much more bespoke and rewarding. Here's the bonus - he also liked the Pink Floyd on my i-phone, which passed quite a few hours on the 20 hour drive across Patagonia!

We were a group of 4 in Patagonia, who did not know one another beforehand and got on extremely well. Jorge planned the expedition well, always taking a cautious approach to safety and ensuring food and shelter was sufficient. Up on the wilderness of the ice pack it takes a minimum of 2 days for help to reach you on foot if there is an accident (no helicopter help) - a cautious approach is important!

Jorge is very focussed on flexible client service - always checking whether you are happy with equipment, accommodation and food options. I have been skiing and mountaineering for about 30 years and have been out with a number of guides over the years. I would wholeheartedly recommend Jorge - he is an excellent guide and a great person who I now regard as my friend!

Duncan Ralph (UK)
| | |
| --- | --- |
| With Hubert we skied Cuernos del Diablo back mountain | Tom Mavilia from Vermont, 2007 |
| Seattle team enjoying lunch after skiing the mtn in front of us | Paul Verchere, Canada |
| Quique Mignaquy skinning in 2003 | Quique Mignaquy, Argentina Nike President in 2005 |
| Nick in the Patagonian Ice cap | Mark at the Base of Moreno mtn, Patagonia |
| Gabe, Shawn, Al and leslie in Cerro Bayo | James Cumberland from England |
| Daniel Ball from Oregon in 05 | Tim and Rachel Ward from England |
| Canadian ski bums in their enviroment | Ed and family after climbing Campanile in Frey |
| Camilla Melanie in Cerro San Lorenzo | The condors always there |
| Ellen and Ed from Maine, enjoying the Andes | Ellen and family doing 5 days trek in Lake District |
| Martin climbing with Walter | Cecile from Seattle, 2003 |
| The Wenatchees parting after ski day | |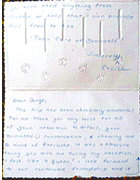 Letter from our client Cecile from Seattle
(Click on it to zoom it and read!)





Some photos from our tours in Patagonia with our clients



Home
What is UIAGM?
Trips dates calendar
What is Patagonia?
About us
In the news
Film productions
Backcountry ski touring
Trekking
Mountaineering
Rock climbing
Heliskiing
Worldwide adventures
Mountain bike
Private guiding
Contact us
Join a Group Trip
Patagonia Trip Notes
Souvenir & Rentals
Photo Gallery
Interesting links
Versión en Español






Andescross latest news
on our blog!





Andescross team is supported by:
map name="Map2">