The Andescross Team
Specializing in Personalized Outdoor Guiding in Patagonia
Whether you want to go trekking, backcountry skiing, mountain biking, rock climbing, mountaineering, or on a family hike during your vacation in Patagonia, the guide you choose could make or break your trip! We've designed our team at Andescross to include guides that are not only professional, highly skilled, and experienced, but also fun, personable, and enthusiastic.

Information about guiding qualifications (UIAGM-IFMGA and AAGM) for the Andes of Patagonia, Argentina & Chile.


Jorge Kozulj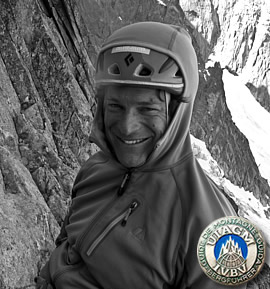 Jorge is the owner, founder, and head guide for Andescross.  He holds a UIAGM-IFMGA Mountain Guide accreditation, which is the highest international recognition in this profession. Jorge grew up in Bariloche, Argentina, and since 1999, he has been guiding right in his back yard, the Patagonian Andes.  He also works logistics for professional outdoor film and photography crews wishing to shoot in Patagonia. 

Some of the technical guiding Jorge has done professionally include Southern Patagonia's Aguja Guillaumet, Continental Ice Cap traverses, Expedition to Mariano Moreno, and Cerro San Lorenzo (2nd highest summit in Patagonia).  Personal climbs in Patagonia also include Aguja Saint Exupery, Cerro Grande, and Mocho. He frequently climbs in Frey, his favorite local spot in Bariloche, and has traveled to North America and Europe to climb.  In Yosemite, he free climbed Half Dome in a day as well as several other classic routes in Yosemite Valley and Tuolumne such as Sentinel Rock (Herbert- Chouinard route). 

Jorge happily spends a lot of time on skis, mostly guiding technical backcountry and volcanoes of Patagonia.  In 2009, Jorge became one of the first Argentines to work as Ski Guide on the Antarctic Peninsula. He has done multiple personal trips ski mountaineering in Alaska: Valdez, the inner Chugach, Wittier and Wrangells-St Elias Ranges, picking chutes and powder as much as possible!

Prior to Andescross, Jorge's work experience includes Safety and Security for the Discovery Channel Eco Challenge in Patagonia, and vertical jobs for seismic exploration from helicopters for VSI in Canmore, Canada.

Jorge is Ski Patrol certified and volunteers for the local Mountain Rescue Team in Bariloche. He is fluent in Spanish and English.

For Jorge Kozulj's full resume, click here
Sarah Vose
Sarah is an Interpretive Naturalist from the United States. She has found ways to combine her love of travel, outdoor sports, and environmental education by living in beautiful locations where she can work and play. With Andescross, Sarah works as an administrator, creates all of the menus for mountain excursions with her homemade dehydrated foods, organizes logistics, assists the mountain guides on various trips, and is our Emergency Medical Technician.

Prior to joining the Andescross team in 2008, Sarah was working in Yosemite National Park, California as an Interpretive Naturalist and with the Yosemite Wellness Center and Employee Recreation. In recent years, Sarah is has been hiking, mountain biking, and climbing a lot more, and swimming competitively, free diving, and paddling a lot less. Before discovering her love of the mountains, Sarah's first passion was the ocean. She has four years of experience with St. Johns County Ocean Rescue in St. Augustine, Florida as a lifeguard officer, rescue diver, EMT, and personal watercraft operator for vessel rescue. She has worked as a Naturalist and researched endangered species at the Waquoit Bay National Estuarine Research Reserve on Cape Cod, Massachusetts. In St. John of the US Virgin Islands, Sarah worked mainly as a Marine Interpreter and First Mate on sailboats, but also did coral research and monitoring with the Virgin Islands National Park and the US Geological Survey so she could spend even more time in the ocean every day! She also worked for St. John Rescue as a EMT Instructor and on their 24-hour response team.

Sarah is a Nationally Registered Emergency Medical Technician, American Heart Association Basic Life Support Instructor, NAUI Certified Rescue SCUBA Diver, and she is fluent in English, American Sign Language, and Spanish.





Pere Vilarasau


Pere is a UIAGM-IFMGA-IVBV certified guide. Originally from Catalunya, Spain with a bit of roots in Patagonia, the Pyrenees and the Alps. A total dreamer and freebird spirit, with amazing skills and smoothness in the mountains like only few people. His major reputation is for being an icon in the climbing community climbing grades as 8b+ (5.14a)  with such a facility that makes it look way too easy. He is a cat on the rock and moves in the mountains smooth as no other.

His vast resume includes, several big walls climbs in Yosemite and some ascents in El Cap in a day, including Half Dome and El Capitan few times, several climbs in Canada, Alps and Pyrenees. Several climbs in the Fitz roy massif linking up Saint Exupery and Rafael to mention a few. Guided for many years in Bolivia in the late 90's, including Pequeno Alpamayo, Huayna Potosi and other classics. He loves Bolivia, so contact him for a trip there!, because he knows the place amazingly good.

Climber, route/ crag developer and  deep explorer of the wild lands of Patagonia putting first climbing routes and crags in Spain, Bolivia, Brazil, Chile and Argentina, really he was the motor/ mentor that inspire many of excellent new climbers in Patagonia and taught them how to open new climbing routes and crags back in the late 90's

Sponsored by Millet, Roca ropes and Boreal and part of THE NORTH FACE team as well!

Craig Ross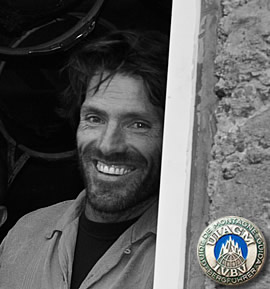 Craig is a UIAGM– IFMGA Mountain Guide who has devoted his life to his great passions: the mountains and his family. He has been working as a guide since 1996, and for several years now led trips for Nols and Outward Bound in the Patagonia region.

He is a smooth climber and an excellent sportsman. Craig took the opportunity to participate in the Eco Challenge adventure race in New Zealand 2001. He has climbed mountains in Cordillera Blanca (Peru), Yosemite, Canada (Bugaboos), France (Chamonix) and several European countries and Southern Patagonia, where he worked as mountain guide for years.

Today, Craig has a beautiful family and two daughters, so he spends most of his time guiding local in the Bariloche area. Craig is fluent in Spanish and English.




Marcos Frischknecht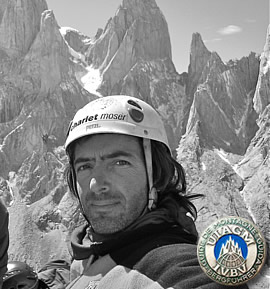 Marcos "el yeti" (The Yeti) besides being a UIAGM-IFMGA Mountain Guide is a legend in the Argentinean Mountaineering history and together with Jorge they are TNT in the mountains! Just to mention some of his vast resume: Kilimanjaro back in the day, when nobody was going there, attempt to Broad Peak in the Himalayas, Several climbs in Yosemite valley as the classic Salathe wall, the Nose, Regular NW in Half Dome, Steck-Salathe in Sentinel Rock.

Also his career includes climbs in Squamish, Washington pass area climbing Liberty Bell via Liberty crack. Climbs in the Bugaboos. Attempt to Denali.

Many seasons guiding in Patagonia and many climbs in its Massif, including Fitz Roy, Aguja Saint Exupery, Rafael, Cerro Grande, Mocho and other climbs too. Torres del Paine (North and Central) are in his pocket as well. Today he spents his summers climbing in Patagonia and guiding/climbing in Chamonix.




Germán González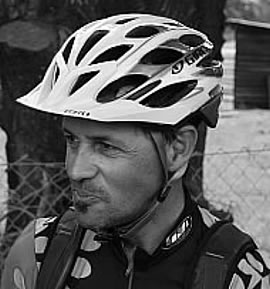 German is our head guide for mountain biking tours. For most of his life, German has been guiding biking trips in the Patagonia region, and he wrote the first guide book about cycling tours in Bariloche and the surrounding area, "Travesías en Bicicleta". He is a founding member of the Argentine Mountain Biking Guides' Association, and is also an auxiliary at the Argentine Red Cross organization.

German also guides several trips mountain biking in Patagonia, Argentina and Chile for REI Adventures and other international outfitters. He speaks Spanish and English.

In Bariloche, German and his wife run a small, yet popular, outdoor clothing and gear company, Tehuelche. They make their own pants, backpacks, chalk bags, dry bags, saddlebags, hats, gaiters, and more. Check them out online at www.tehuelchepatagonia.com, or see the whole of their family's shop by stopping by while you're in Bariloche!
Nicolás de la Cruz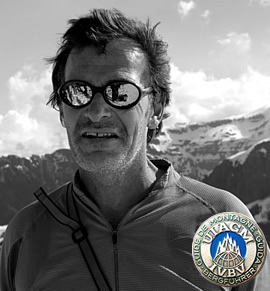 Nicolas is a UIAGM- IFMGA Certified Mountain Guide and a very well-recognized as a guide and mountaineer in Argentina. He is the President of the Argentine Mountain Guide Association (AAGM), and the driving force for Argentina to become a member of the UIAGM-IFMGA-IVBV. He is an instructor for both associations.

Since 1990, Nico has been mountain guiding in the Patagonian Andes, and he has guided several ascents of Aconcagua, South America's highest peak. His climbing and mountaineering resume also includes Shishapangma (8,013m, 26,289ft) in the Himalayas of Tibet which is one of the 14th highest mountains in the world, several mountaineering ascents in the Cordillera Blaca of Peru, Switzerland, and France.

Argentina's Nahuel Huapi National Park in Northern Patagonia is Nico's area of specialization, and for 14 years he managed the mountain paradise, Refugio Frey, in the park.

Nicolas is sponsored by Petzl, Charlet Moser, Movement Skis, and Ansilta. He volunteers for CAX (Comisión de Auxilio Bariloche), which is the local Mountain Rescue Team in Bariloche. He has work experience rigging gear in the film production of "Grido di Pietra" by the same director as "Grizzly Man", Werner Herzog. He speaks fluent Spanish, English, French, and Italian.
Luciana Tessio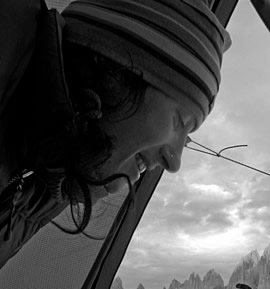 Luciana is certified by the Argentine Mountain Guide Association (AAGM). She is a Ski Patrol Section Chief at Cerro Catedral Alta Patagonia Ski Resort, South America's most popular ski resort.

She has also worked as ski patrol in Andorra, Europe for many seasons. As a climber and mountaineer, Luciana is among the top in Argentina.

On sport routes she climbs at a 5.12- 5.13 level and used to compete regularly. She has completed various ascents in the massifs of Southern Patagonia including Fitz Roy, Mocho, Media Luna, Saint Exupery, Rafael, Mermoz, and Guillaumet.

She is one of the few women who has climbed the Casarotto Pillar on Fitz Roy. She has guided several expeditions on the Patagonian Ice Cap. Luciana is also a Yoga Instructor, swimmer, and bassist in a rock band as a hobby. She speaks Spanish and English.

Chugach

Chugach, a "Truchador Patagonicus", or black lab mix, is our very well-behaved Andescross mascot. She is was born in Bariloche and raised running in the mountains and swimming in the lakes. She happily fulfills her role of keeping team spirits high, leading on the trail, checking that the group is together, guarding our gear, and greeting newcomers to the mountain huts. Of all of our team at Andescross, Chugach is probably the most enthusiastic about the great outdoors!

As a pup of just four months, Chugach climbed the highest mountain in the Bariloche area, Mt. Tronador up to Refugio Otto Meiling. To say the least, she has had no problem keeping up with skiers descending backcountry powder, a full day of mountain biking, or eight hours alongside a horse. She spent much of her puppyhood in El Chalten and El Calafate of Southern Patagonia and has done quite a bit of traveling. On the Atlantic in Florida and the Pacific in Chile, Chugach watched the surfers diligently. A summer on Cape Cod, Massachusetts allowed her to bring her swimming skills to a whole new level as well as help the family on the boats.

On a trip up the west coast of the United States, Chugach had several big money offers to leave us. Gladly, she stayed on board to have some great adventures avoiding the rangers in Yosemite, climbing the 4th class around the crags, spring skiing Mt. Shasta, and playing in the backcountry snow around Washington Pass. Nothing makes her happier than to spend several weeks on end sleeping in the vestibule of a tent and waking with the sunrise to greet another day in nature.

If you think Chugach would be a good fit on the team during your outdoor trip in Patagonia, let us know!
:



Home
What is UIAGM?
Trips dates calendar
What is Patagonia?
About us
In the news
Film productions
Backcountry ski touring
Trekking
Mountaineering
Rock climbing
Heliskiing
Worldwide adventures
Mountain bike
Private guiding
Contact us
Join a Group Trip
Patagonia Trip Notes
Souvenir & Rentals
Photo Gallery
Interesting links
Versión en Español






Andescross latest news
on our blog!





Andescross team is supported by:
map name="Map2">