Trekking in Northern Patagonia, Argentina Bariloche and the Lakes District
Multi-day hiking trips in the Andes Mountains of Patagonia around Bariloche, Argentina and the Patagonian Lakes District with Professional Mountain Guides: camping beside alpine lakes, sleeping in rustic mountain huts or tents, reaching summits, crossing saddles, and experience Patagonia's wild beauty.

Curious about hiking in Patagonia? We'd be happy to share our passion with you! Contact us at info@andescross.com

Short Multi Day Treks Near Bariloche, Patagonia, Argentina
Mountain Sprint Light and Fast Trek
from Cerro Lopez to Laguna Negra
Hiking Season: December through May
Duration: 2 days
Level: Advanced– Endurance hikers and trail runners
Day 1: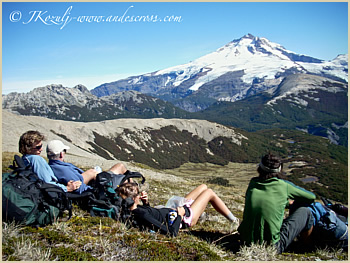 With an early morning start from Bariloche, Argentina, you and your mountain guide begin climbing to the summit of Cerro Lopez (2200m). The trailhead is in the Llao Llao area and after passing through a forest, we have open views of the surrounding Andes and the Lakes District of Patagonia. Cerro Lopez sits on the corner of two arms of the Nahuel Huapi Lake beside the beautiful Cerro Capilla, and the mountain is characterized by amazing basalt spires, such as Aguja Lürs, a big open bowl that attracts backcountry skiers when it is filled with snow in the winter, and the exposure to the west of the untouched Nahuel Huapi National Park.

It is about 2 hours of hiking to Refugio Lopez, a little mountain hut, and another 2 hours to the summit. With your mountain guide you will climb through little alpine meadows, along a little lake, on rocky domes, and along the ridge on compacted scree. In the spring, there are still little snow patches on the dome. Views of the Andes from Cerro Lopez are amazing! From the summit, you will appreciate the incredible Mount Tronador (3354m ) and the Brazo Tristeza arm of the Nahuel Huapi Lake as well as some of the volcanoes of Chile: Volcano Osorno and Volcano Lanín.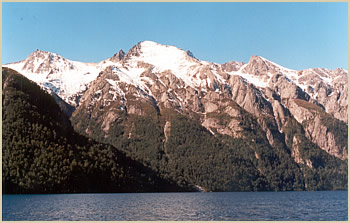 Hike down the scree with your mountain guide towards west and Bailey Willis valley. Traverse across the valley to the top of Bailey Willis peak, and then down to Laguna Negra. The last stretch of the day, we'll have the Manfredo Segre Mountain Hut in sight at the other end of Laguna Negra at the base of Cerro Negro. You can practically taste their homemade pizza and microbrews on this last dash going around the lake. Nice, hot dinner and a celebratory beer or malbec, and then bedtime in the hut. We can even bivy outside if the weather is good! Favorite part of the day is sleeping under the stars after a good hike!

Approx. 18 km with 1400 meters elevation change in 8-10 hours of hiking.

Day 2: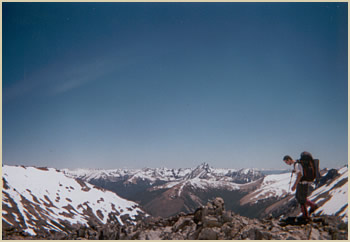 Today is much more relaxed. Breakfast in the Laguna Negra Hut and then we hike down into Goye's Valley. Switchbacks down from the mountain hut, and then we'll hike along the nice, long valley beside a clean mountain stream. We come back out to civilization in Colonia Suiza, a pretty little farming village founded by Swiss settlers in the early 1900s. Your mountain guide will drive you back to your lodging in Bariloche.

Approx. 14 km with 500 meters elevation change in 3 hours of hiking.

For this trek, we strongly recommend hiring a Professional IFMGA UIAGM or AAGM Mountain Guides.
Rates: Minimum 2 people.
Includes private transportation, AAGM or UIAGM Mountain Guide, all meals and lodging in the mountains.
Price per person

2-3 people
4 or more people
US$ 750.-
US$ 550.-

Classic 3 Day Hut to Hut Trek Backpack from Frey Hut to Jakob Hut
Hiking Season: December through May
Duration: 3 days
Level: Moderate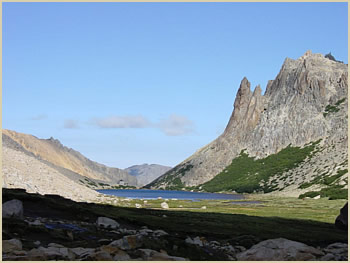 This is one of the most classic guided treks in the Bariloche region of Argentina! In three days of backpacking, we hike through the Patagonian Lakes District along ridges, high meadows, and sleep in quaint mountain huts beside beautiful alpine lakes.
Day 1:
We begin this guided trek at the Cerro Catedral Ski Resort and hike for approximately 4 hours through the Nahuel Huapi National Park to Refugio Frey. The first part of the trekking trail traverses along the mountain and there are excellent views of the large Lake Gutierrez and the surrounding mountains. Then, you reach the Van Titter Valley and hike through a lush forest along a beautiful stream until the last climb up to Frey Hut and Laguna Toncek. Once at the Frey Hut, we can put down our backpacks, and do a short hike to a nearby summit, or spend the afternoon relaxing by the lake. Frey hut is surrounded by beautiful golden granite spires and there are often rock climbers going up them. Night in Frey Hut.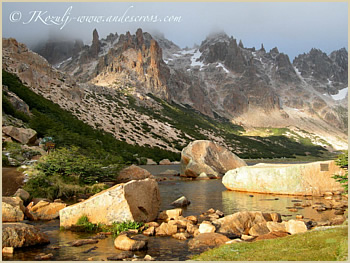 Approx. 13 km with 800 meters elevation change in 4 hours of hiking.



Day 2:
We leave from Frey Hut early in the morning, and hike up the rocky flanks of Cerro Catedral all the way to the ridge. Views of Volcanos Osorno (2652m), Tronador (3354m), and Lanin (3776m). Hike down to the bottom of the Rucaco valley with help of your mountain guide. Climb Cerro Brecha Negra Mountain (1900 mt) to enjoy the view from the second summit of the day. Then hike down the mountain to Refugio Jakob. Night in Jakob Hut.

Approx. 15 km with 600 meters elevation change in 6 hours of hiking.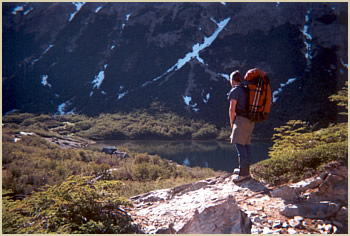 Day 3:
This morning, your mountain guide can take you on a little side trip to Laguna Los Tempanos, an alpine lake named for the little icebergs floating in it until early summer. It is a 40 minute hike from the mountain hut, going around Laguna Jakob to get to this tiny cirque and hidden lake. Hike back to the hut, pick up our packs, and then we will start our hike out of the mountains and back to civilization. The trekking trail down from Jakob takes us through Valle Casa de Piedra, one of the most beautiful valleys in the Nahuel Huapi National Park.

Approx. 16km with 700 meters elevation change in 5 hours of hiking. Short drive to downtown Bariloche.

For this trek, we strongly recommend hiring a Professional IFMGA UIAGM or AAGM Mountain Guides.
Rates: Minimum 2 people.
Includes: private transportation, AAGM or UIAGM Mountain Guide, all meals and lodging in the mountains..
Price per person

2-3 people
4 or more people
US$ 750.-
US$ 550.-
* If you would like to carry a lighter load, Porters are available for US$ 80/day.

These are only few of our favorite multi-day guided hiking and trekking options in the Bariloche area of Argentina that we have to offer with our Professional AAGM or IFMGA UIAGM Mountain Guides. There are endless possibilities for day hikes in the Andes of Northern Patagonia. We are based in Bariloche, but we can also arrange a customized guided hiking trip to the areas of Lanin National Park, El Bolson, Trevelin, Esquel, San Martin de los Andes, or near the Chilean border at Paso Puyehue, among many other places a bit more remote to avoid crowded trails and get off the beaten path! Andescross also has mountain guides available in Southern Patagonia, El Chalten (Fitz Roy and Cerro Torre area) and El Calafate for multi day trekking and backpacking. Please contact one of our experienced mountain guides at info@andescross.com.




Home
What is UIAGM?
Trips dates calendar
What is Patagonia?
About us
In the news
Film productions
Backcountry ski touring
Trekking
Mountaineering
Rock climbing
Heliskiing
Worldwide adventures
Mountain bike
Private guiding
Contact us
Join a Group Trip
Patagonia Trip Notes
Souvenir & Rentals
Photo Gallery
Interesting links
Versión en Español






Andescross latest news
on our blog!





Andescross team is supported by:
map name="Map2">