Heliskiing in the Andes of Patagonia in Argentina and Chile
The High Andes of Southamerica and the entire Patagonia in Argentina and Chile offers huge solitude, big glacieated mountains, undiscovered ski terrain, remote locations with dramatic peaks excellent for ski touring, backcountry skiing and heliskiing.

The idea of Andescross offering Heliski trips along the Andes is to be able to share with you two main areas:

The High Andes of Mendoza/ Santiago de Chile and the area of Patagonia and the Lake Districts nearby San Carlos de Bariloche.

Also we would love to show and guide you the Central Patagonia area that offers so much remoteness and first descents, but for this area since helicopter is not located "in situ" we can only offer it on specific demand, generally have been done for ski film crews only. This last option is possible but pricey.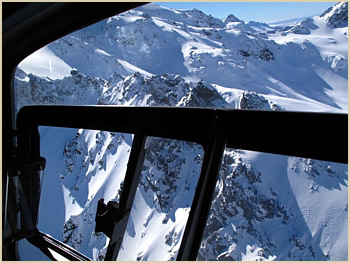 We co-work with 2 main heliski operations, one based in Santiago de Chile and one in San Carlos de Bariloche, the gateway to Patagonia. We guide our own clients using their heliski operation logistics. Price wise is exactly the same, there are not "on top fees" doing it through us. The only difference is if you want to ski with us since we did some adventures together in the past or because you have heard about our team and reputation along this last 12 years. The reasons to come with us are that we are one of the few companies with full UIAGM-IFMGA guides in Southamerica, Argentina and Chile, and our passion for skiing had taken us World wide guiding experiencing remote locations like Antarctica , Northern Fiords of Norway, Chugach and Wrangells-Saint Elias range in Alaska, Swiss and French Alps and of course Patagonia.

Call your friends, email us, sharp your edges, wax your babies and board the chopper with our team, you will not regret enjoying your vertical meters with us! Groups are formed by minimum 4 participants guided by some of the best UIAGM-IFMGA Mountain guides in Argentina/ Chile.

Please, email us for detailed information for different locations at info@andescross.com
Destinations:
High Andes of Chile
You fly into Santiago de Chile, Pick up in airport and then 45 min drive to Lodge and then full 7 Heliski days program skiing in the High Andes nearby Santiago de Chile using the Eurocopter AS350 Ecureuil and World Class Mountain guides.

Includes
airport-to-airport all inclusive package, transportation, lodging, meals, helicopter, guides
Minimum 3 days starting at Euro 5150
Complete Heli-week starts at Euro 8800
Bariloche and Patagonia area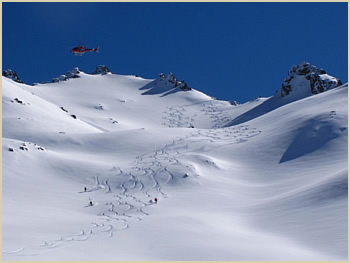 You fly into San Carlos de Bariloche. We offer heliski in the area of Bariloche and Cholila, Heli skiing peaks like Cerro Villegas near Los Baguales and Cholila area, Planchon Nevado peaks here we offer day trips, 3 days program and 7 days program. We offer you diversity, adventure and the incredible feeling of being a pioneer in the middle of the most amazing Patagonian landscape. Helicopter range doesn't limit your possible skiing terrain, supported with an integrated network of lodges in Patagonia, both sides of the Argentinean - Chilean border

You will enjoy all the benefits of skiing in exclusive private groups of 4 to 5 skiers.

One day of full Heliski 3500 mts: USD$1650.- per person (minimum 4 people)
Heliskiing from South to North over the Patagonian Andes

1000 Kilometers Mountain Range - Heliskiing Program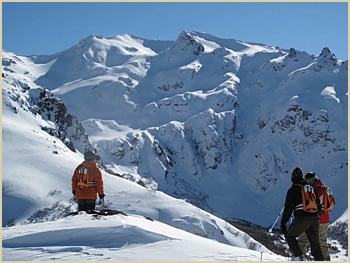 Skiing the best options in Patagonia between Fitz Roy Area and Bariloche
Itinerary
Day 1:
Arrival to Ezeiza, Buenos Aires international airport. Drive to Hotel in Bs. As. Night in hotel
Day 2 :
Visit to Bs As city. Night in hotel.
Day 3: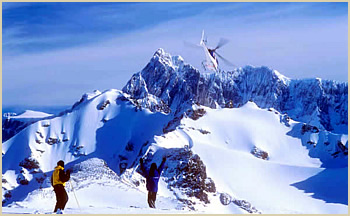 Flight BUE – Calafate and private terrestrial transfer ( 220 Km dirt road aprox) to El Chaltén, Hostería El Pilar. Check in the hostería and Heli and mountain security briefing with pilot and guide. Overnight in Hostería El Pilar with full board.
Day 4:
Heliskiing day in the area of El Chaltén. Runs are an average of 700 Mts vertical drop with spectacular view on Fitz Roy, Cerro Torre and the Continental Icecap. Weather permitting we will be skiing mountains close to the Ice Shelf such as Cerro Gorra Blanca 2900 mts., with a skiable vertical drop of 1500 mts. or Cerro Bonete, Cerro Milanesio, etc. Glacier skiing in most of the area. With poor weather conditions skiing will be further to the East. Total guaranteed vertical for the day 3500 mts. At your wish, if conditions are good this can of course be extended.
Day 5: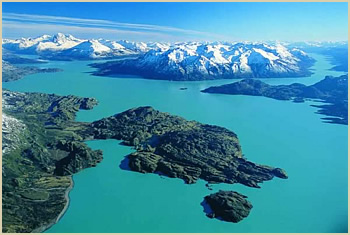 Heliskiing in the Fitz Roy area. Total guaranteed vertical: 3500 mts Overnight in El Pilar with FB.
Day 6:
Aerial transfer (ferry) to Bahia Arenal, Lago La Plata. Depending on wind conditions refueling will be made on the way. The refueling spot will be coordinated with the truck according to road conditions and helicopter load (passengers) at the moment. This might give us the chance to ski some runs on the way to Bahia Arenal choosing some good runs on the way. Nevertheless the chance of skiing this day is very small due to refueling and other operational limitations. Waiting at the roadside or a restaurant for the fuel truck is possible.
Check in at Bahia Arenal Lodge. FB. Our luggage will most probably get to the lodge the next day by car.
Day 7:

Depending on refueling possibilities in the morning, heliskiing in the area of Lago La Plata. Runs are an average of 600 mts. vertical drop and we will be skiing in all the area around the lake. Some glacier skiing and tree skiing is possible. Mostly non-glacier skiing. A total of 3500 mts of vertical drop is guaranteed for the day.
Overnight at Bahia Arenal. FB
Day 8:
Heliskiing in the area of Lago La Plata. 3500 mts guaranteed. Overnight at Bahia Arenal. FB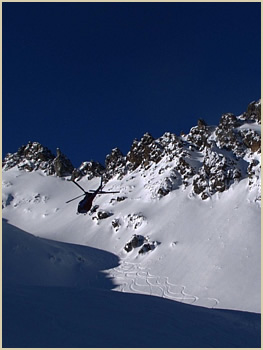 Day 9:
Ferry from Lago La Plata to Cholila Hostería El Trebol. Skiing is possible on the ferry depending on current operational circumstances therefore not guaranteed. Check in at Hostería El Trebol / FB.
Luggage will most probably get to the lodge the next day by car.
Day 10:
Heliskiing in the area of Tres Picos range and Planchón Nevado with an average of 800 mts of vertical per run. Glacier-skiing in a vast and remote area with fantastic scenery. 3500 mts guaranteed. Overnight at El Trebol / FB.
Day 11:
Heliskiing in the area of Cerro CABA 2500 Mts. and Lago Esperanza. Glacier skiing in impressive high alpine scenery. 3500 mts guaranteed. Overnight at El Trebol / FB.
Day 12: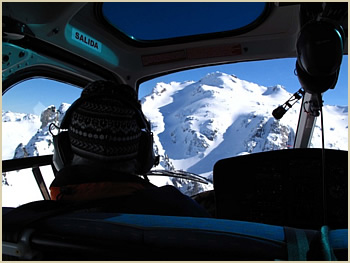 Ferry and skiing on the way from Cholila to Arelauquen Lodge, Bariloche.Some more skiing in the area of Lago Esperanza, Cerro Villegas and Cerro Carrera is possible on the way from Cholila to Bariloche. Guaranteed vertical drop: 3500 mts.


Day 13:
Spare day in Bariloche, to go skiing to Cerro Catedral if you like the idea.


Day 14:
Flight out from Bariloche – Buenos Aires. Transportation to Ezeiza international airport.
Flight back to Europe.


NOTE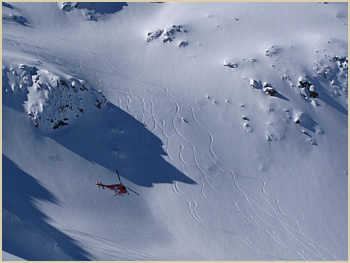 Since there will most probably be no occupancy problem at the lodges we would suggest to take one extra day for the trip. The day would be used in the best possible spot depending on weather and skiing conditions. This allows the group to be flexible and adaptable to conditions, staying in the area if conditions are good or traveling to the next spot if weather conditions are poor. In this case, your arrival day in Bariloche would be September 14 th.
Services included
Tranfers in out in El Chaltén from El Calafate and to the airport/hotel from Arelauquen Lodge Golf & Polo
3 night lodging in El Chaltén, Hostería El Pilar.
3 night lodging in Bahía Arenal Lodge
3 night lodging in Cholila, Hostería El Trébol
Full board
Baggage transportation
7 Heliski days including 3500 meters vertical drop of skiing per day.
Exclusive skiing in groups of 4 to 5 skiers with maximum of two groups per helicopter.
1guide per group
Safety equipment, such us; Avalanche rescue beacons ( tracker), snow shovel, etc.
Powder skis ( fats)
Not included:
Domestic and internacional airtickets.
Lodging in Buenos Aires during the first and last night of the trip if is necessary
Transportation in Buenos Aires to connect Airports and Hotels.

Please contact us for booking and quotation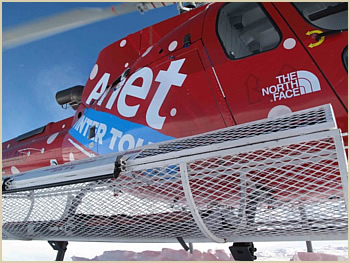 Safety
Your safety is our highest priority. That's why our guides are top professionals who know the region extremely well. They are specially trained in avalanche forecasting, terrain and snow pack evaluation, rescue and medical emergency techniques. Their expertise and enthusiasm will ensure that your skiing is both enjoyable and as safe as possible.

Our pilots have a great deal of experience in mountain flying and our helicopters are aircraft valued for their safety, comfort, and performance in the mountains. Helicopteros Marinos company operates the helicopter transfers with excellent expertness in the subject.