The Southern Patagonian Ice Field - Argentina, South America

Mountaineering in the Andes Patagonia, Argentina with IFMGA Guides
Patagonia Ice cap Traverse trip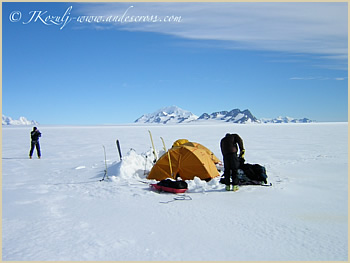 The Patagonian Ice cap, also called the Patagonian Ice field is the largest non polar ice on earth, and the third glacier mass in size after Antartica and Greenland. It has an average height of 4.500ft. a.s.l., covering valleys between the mountain chains, whose tops rise above the frozen plains. . .

For more photos about Patagonia Ice cap trip, click here


Season: October to April
Duration: 11 days
Level: Rigorous Trekking.
Hiking distance: 50 miles
Drop: 3000 ft
Group Size: 2 to 10
Scheduled date:
17th to 26th of October 2015
14th to 23th of November 2015
12th to 21th of December 2015
26th December to 4th of January 2016
16th to 25th of January 2016
13th to 22th of February 2016
13th to 22th of March 2016
Day 1: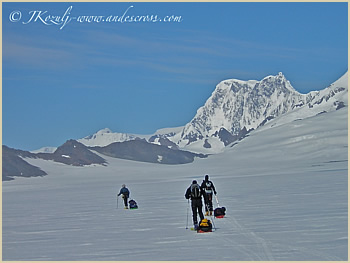 Welcome in El Chalten the base town of the Patagonian Ice cap traverse. Check the gear.


Day 2:
We start the morning hiking to Piedra del Fraile, according to weather conditions we keep hiking to La Playita of Lago Electrico.


Day 3:
Weather permitting we'll continue hiking on the way to Lago Eléctrico (possible campground), and ascent to the Marconi pass (1500m a/s/l) through the Marconi Glacier. This will be a key day of the mountaineering trip, the most extraneous hike traverse and heavy load to carry. On a clear day the views of the towers Fitz Roy, Piergiorgio and Pollone are magnificent!
Elevation gain = 900m.
Hiking time= 8-9 hs.


Day 4: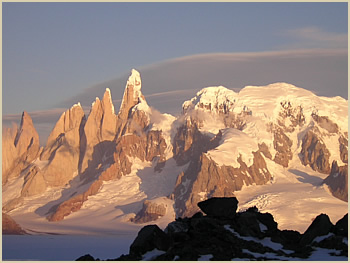 We'll continue trekking, heading south through the plateau, using the snowshoes and snow sledges until we'll reach the "Circo de los Altares", unique west views of Cerros Torre and Fitz Roy. We'll build a wind shield with shovels, to protect our tents. We'll melt snow to cook and drink water.

Hiking time: 6 hs.



Day 5:
We'll continue snowshoeing through the Viedma Glacier, until we'll come back to the lateral moraine, hiking out of the ice cap. Today we'll camp at Ferrari's bivouac, near the Ferrari Lake.

Hiking time: 7-8 hs



Day 6: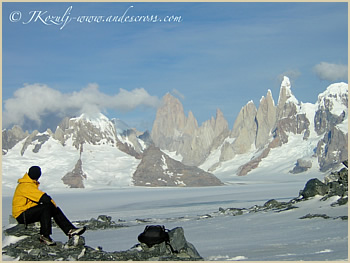 We'll climb up to the "Paso del Viento" (the windy pass) about 1550m a/s/l and 400m elevation gain. And we'll descent to the Tunel valley; with a possible tyrolean traverse crossing over the Río Tunel. Finishing the day hiking back at the forest, at Laguna Toro campground.



Day 7:
We'll hike back to El Chalten through an easy hiking trail. Possible views of both Fitz Roy and Cerro Torre from the "Pliegue Tumbado".

Hiking time: 6 hs ; elevation gain 500m.



Days 8- 9-10: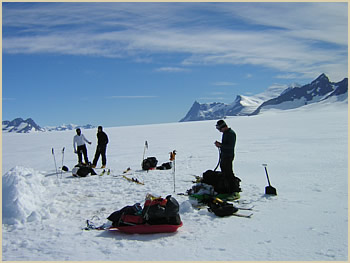 Extra days in case of bad weather conditions at the beginning of the trip. It's needed a reasonable good day to go up to the Marconi Pass. Or spend the extra days at others campgrounds.



Day 11:
End of the services


Requirements and advices:
This is one of the most scenic, complete and demanding treks in Patagonia. It's not required technical experience, but we request camping and trekking experience, and you must be self sufficient setting camps and cooking your meals. You should be able to carry a backpack with around 50 pounds; and hike 6 to 8 hours a day through different terrains as hiking trails, moraines, glaciers and snow; for about a week in total. The spare days will be utilized in case of bad weather to continue the trek, or taking an alternative program.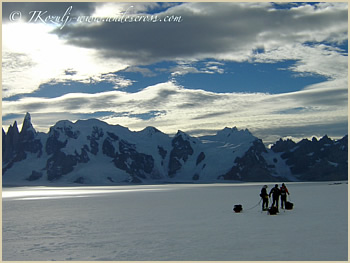 Weather conditions:
During this trek, you should expect all kind of climates; sun, rain, perhaps some snow, and a lot of wind!! The temperature during the summer is usually between 5 and 10 centigrades.

Rates: Minimum 2 people.

Price per person

2-3 people
private trip
4 or more people
US$ 2800.-
US$ 1950.-
Includes:
Proffessional Mountain Guide and assistant (1:4/3 ratio) - Transportation to Rio Electrico from Chalten - Transportation from Bahia Tunel to Chalten - Meals during the expedition - Lodging (9 nights in camps and 2 nights in double bedded room with private bath in Chalten) - General Gear : tents, stoves, cookware, snowshoes, crampons, harness, rope, shovel, first aid kit, radio contact, GPS , snow sledges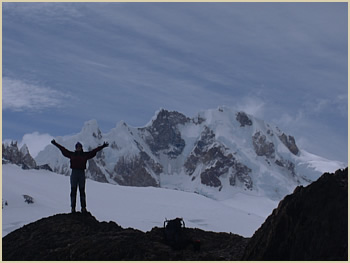 What we don't include: - International and domestic airfares - Transportation Chalten- Calafate - Chalten (optional) - Horses and porters - Personal gear (skis, clothing, sleeping bag and therm-a-rest) - Extra drinks
Optional:
- Transportation Chalten- Calafate - Chalten (optional)
- Horses and porters (USD80.- per day)
Contact for advice info@andescross.com

What you need:
70 l Backpack Sleeping bag (800 gr down recommended)
Sleeping pad
Plastic boots or technical leather boots
Long underwear
Over-pant with lateral zips (gore-tex recommended)
Medium fleece (Polar 100)
Thick fleece (Polar 200)
Rain Jacket (Gore-tex or similar)
Gaiters Magic gloves, fleece gloves and waterproof gloves
Walking poles
Warm hat and sun hat
Lens with UV filter
Sun block and lips protector
One liter plastic bottle (Nalgene recommendable)
Mol skin ( for blisters)
Pocketknife
Head lamp
Personal Medical Insurance



Home
What is UIAGM?
Trips dates calendar
What is Patagonia?
About us
In the news
Film productions
Backcountry ski touring
Trekking
Mountaineering
Rock climbing
Heliskiing
Worldwide adventures
Mountain bike
Private guiding
Contact us
Join a Group Trip
Patagonia Trip Notes
Souvenir & Rentals
Photo Gallery
Interesting links
Versión en Español






Andescross latest news
on our blog!





Andescross team is supported by:
map name="Map2">