Private guiding in Patagonia & Worldwide ski touring adventures
in the Alps, Alaska, Antarctic Peninsula, Iceland and Norway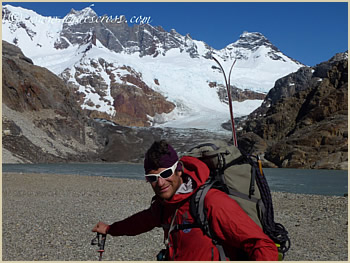 We are based in San Carlos de Bariloche, Lake Districts of Patagonia where we live most of the year. We run trips in the wild lands of Southern Patagonia climbing some of the big towers satellites of Massif of Fitz Roy and Cerro Torre, Skiing their surrounding mountains, Trekking traverse in the Patagonian Ice cap, and hiking trips in one of the most beautiful places on Earth!

Our Private mountain guiding trips in Patagonia include Ski mountaineering, ski touring, Hut-to-Hut traversers, daily backcountry ski trips all along the Patagonian Andes including the crown jewel of the ring of fire in Chile with their Majestic volcanoes (Osorno, Puyehue, Villarica, Llaima, Lonquimay, Sierra Nevada, Sierra Velluda), Big mountain climbing/ skiing, Mountaineering ascents, Glacier travel, Ice climbing, Rock climbing and any kind of mountain adventure that you want to do Nice and relaxing family trips as well.

Private guiding from one to 6/8 clients depending on mountain activity, we include climbing and glacier gear, camping gear, private transportation. Our constant desire of exploration have taken us together with some of our guest to the following destinations below, so some part of the year we guide overseas offering this trips:


Alaska State, USA:
Ski touring in the Chugach range and Wrangells-Saint Elias National Park, accessing to the mountains by small aircraft or by car to the high passes. We can also customized your Heliski program during our trip where we operate with Points North Heliskiing in Cordova, Valdez Heliski Guides or the guys from Girdwood, Chugach Powder guides.

Our idea of this trip is to backcountry ski tour for a week finding the best snow and reserving the best 2 days of the trip to Heliski in dreamed Alaska powder steeps!

Check more info about Ski touring and heliskiing in Alaska

The Alps, Chamonix, Verbier: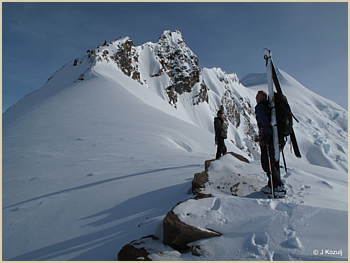 The Alps and Chamonix is the cradle of alpinism and skiing, it is a place where we all should go one day, it is a big part of the Mountain Culture. We co-work here with two local Chamoniards UIAGM-IFMGA-IVBV Mountain guides. We offer trips here year round:

Skiing: The Classic Vallee Blanche, with all the variants that the valley offers, including crossing to Cormayeur on the Italian side, col de Entrevee and all the nice ski tours on the Glacier of Dent du Giant. For the most experts Cosmique couloir, Glacier Ronde descent and other classics steep ski descents. We mountain guide the beautiful, scenic, classic and most well know ski touring traverse in the World : Haute Route, starting from Chamonix ending in Zermatt. If you are interested in Berner-Oberland, climb and ski some 4000 mts peaks we can customize this adventure for you as well.

Classic Mountaineering Ascents:
Arete de Cosmiques
Classic Climbs in the Triangle du Tacul
Tour Ronde ascent via normal route, North Face or Gervasutti couloir
Rock climbs on the South Side of Aguille du Midi
Point Lachenal mountaineering traverse
Ascent to Mont Blanc via 3 summits or Via Gouter

Check Chamonix mountaineering trip photos here



Lyngen Alps, Norway:
We offer one trip a year in the Scandinavian country based out of Tromso, this trip is ran in March/ April and is a ski touring trip using an old wooden sailing boat as a home. We sail for a week in the fjords that surrounds Tromso, above the Arctic Polar Circle climbing and ski touring in remote peaks of the Lyngen Alps. The boat holds 8 guests + 2 UIAGM-IFMGA-IVBV mountain guides. Day trips to the mountains gaining around 1500mts per day, then back to the boat for a good Scandinavian meal, drink some malbec wine that we bring from home, relax and repeat!

Check more info about Ski touring in Norway Spitsbergen Ski Cruise


Ski & Splitboard touring in Lyngen Alps, Norway | GoPro, Andescross, Goxshiem from Tyler Gee on Vimeo.
Iceland:
This beautiful remote country is full of volcanic activity, geysers and has also the magic of skiing to the Ocean. We offer a complete trip trying to explore as much as possible in our time frame, our plan is:
- Climb/ ski touring ascent to Volcan Snaefellsjökull.
- Ski touring adventure in the North west fjords near Isafjordour
- and also in the Troll Peninsula, skiing to the ocean accessing by skiff or sailing boat.

There are few ski touring options to combine this trip and arrange our ski adventure according time available of participant



Iceland 2014 -www.andescross.com from andescross on Vimeo.
Click on photo to zoom it!

Antarctic Peninsula: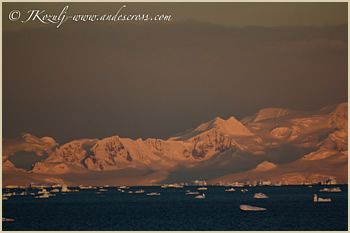 Once each two years we cross the Drake Passage in a large boat and navigate along the west side of the Antarctic Peninsula. The plan is to ski in different bays out of the ship accessing by zodiac boats to shore, ski all day, see wildlife such a leopard seals, penguins, orcas, humpback whales.

The ship change location every day to see as much as possible in a total trip of 13 days. If you are interested in looking in a map the locations we normally go are: The group of the Shetlands Islands, Livingston and King George Island Cierva Cove Lamaire Channel and Neumeyer Channel, Port Lockroy, Anvers Islands.

This trip is an unique adventure with five stars cruise ship service! A luxurious mountain trip! If you have a place you would like to go, please, email us to explore together.

Check more info about Antarctica ski touring trip



Home
What is UIAGM?
Trips dates calendar
What is Patagonia?
About us
In the news
Film productions
Backcountry ski touring
Trekking
Mountaineering
Rock climbing
Heliskiing
Worldwide adventures
Mountain bike
Private guiding
Contact us
Join a Group Trip
Patagonia Trip Notes
Souvenir & Rentals
Photo Gallery
Interesting links
Versión en Español






Andescross latest news
on our blog!





Andescross team is supported by:
map name="Map2">