Andescross Patagonia Souvenirs and Outdoor Gear Rental, Bariloche Argentina
For the past few years, after a ski, trekking, mountain biking, or climbing trip in Patagonia, some of our clients asked if we had some kind of t-shirts or goodies to bring back home. Finally, we decided to make some souvenirs for you to remember your trip with us in Patagonia, Argentina.


Alpine and Rock Climbing Guidebook for Patagonia
PATAGONIA VERTICAL - Chaltén Massif Patagonia Vertical -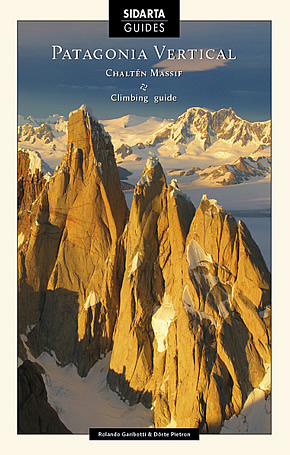 Climbing guide By Rolando Garibotti & Dörte Pietron
Published by Sidarta
Edited by Lindsay Griffin
Winner of the 2013 Mountain Guidebook Award at the Banff Film and Book Festival, Canada.

ABOUT THIS BOOK The dramatic Chaltén Massif in southern Patagonia, Argentina, is home to some of the most iconic peaks in the world, including Cerro Fitz Roy and Cerro Torre. The steep walls of these jagged spires range from 300 to 1500 m, and from enjoyable day climbs to unrepeated horror shows. Although this is not the faraway land it once was, the beauty of the peaks, the quality of the rock and the ferocity of the storms remain unchanged, offering climbers the timeless pursuit of real adventures and lasting memories. It covers the Cerro Fitz Roy and Cerro Torre chains, as well as Cordón Adela, Cordón Marconi, Cerro Piergiorgio and the Cerro Pollone group. It is a complete guidebook to the area, describing every peak and climb. The text includes general information, history, approaches, route descriptions, recommended gear, strategy and descents.
368 color pages covering 250 routes in 39 peaks, including 90 topos, 120 photodiagrams (photo-topos) as well as 100 more photos.
Format: 150x240mm, sewn binding.
Available in English and Spanish.

WHERE TO BUY IT
EUROPE
NORTH AMERICA
SOUTH AMERICA
"The Fine Line"
Ski Movie September of 2009, Andescross worked with the Rocky Mountains Sherpas film crew, and we had a total blast organizing logistics, guiding, helping with filming, and skiing into the Crater of Volcan Puyehue in Chile with world-class ski athletes from Salomon, Helly Hansen and 4frnt Skis: Mark Abma, Eric Hjorleifson and Chris Rubens.

They shot footage to create an environmental film ALL I CAN (2011) and a tv show for Salomon Freeski TV.

Check out the previous work of the R. M Sherpas:
THE FINE LINE; an amazing educational film about Avalanche awareness that Powder Magazine describes as:
"A combination of top flight ski footage and avalanche awareness, The Fine Line is ski porn with a public service message. Featuring the best skiers in the world, dramatic avalanche footage, solid editing and good information that all skiers should be aware of, The Fine Line keeps viewers entertained while educating them." - Powder Magazine

THE FINE LINE is available in English, French, Spanish, and Japanese. Thanks guys!



Patagonia Climbing Film "Ritmo Latino en la Cara Oeste"
Our friend, and fellow UIAGM Guide, Ramiro Calvo, won an award in Trento, Italy (2007) for his film "Ritmo Latino en la Cara Oeste" which he filmed, directed, and produced. This movie is about six friends who repeated the route up the west face of Cerro Torre, which was originally opened in 1974 by "Ragnni di Lecco".

Ramiro is a hidden talent, and he has lots of energy lots to give. Apart from this film, Ramiro has worked hard to bring Argentina to the UIAGM standards.


Andescross Patagonia T-Shirts, Hoodies, Pants, and Stickers
Our t-shirts and hoodies come in a variety of colors and have a original design of a skier on the back. The pants are made by a local family company here in Bariloche, Argentina, Tehuelche Patagonia, and come in a variety of colors and fabrics with the Andescross logo on the back pocket.
Outdoor sports gear rental in Bariloche, Patagonia Argentina
Andescross Gear Rental for Backcountry Ski Touring, Mountain Biking, Rock Climbing, Mountaineering, Trekking and Backpacking in Patagonia
Here we have some newer models for ski touring/ Backcountry skiing gear for rent, with dynafit and Fritzchi bindings ideal for the Patagonia area. Send us an email to reserve your ski gear : info@andescross.com



Home
What is UIAGM?
Trips dates calendar
What is Patagonia?
About us
In the news
Film productions
Backcountry ski touring
Trekking
Mountaineering
Rock climbing
Heliskiing
Worldwide adventures
Mountain bike
Private guiding
Contact us
Join a Group Trip
Patagonia Trip Notes
Souvenir & Rentals
Photo Gallery
Interesting links
Versión en Español






Andescross latest news
on our blog!





Andescross team is supported by:
map name="Map2">