Skiing at the End of the World, Argentina, South America
Ski touring (randonneé skiing), backcountry skiing or alpine touring in Patagonia, the Southern Andes of Argentina and Chile!
Could take to any of us an entire life or maybe many lives to explore all the little valleys, ridges, open bowls, snowy forest, steep and medium chutes, deep powder, corn snow that the Patagonian Andes (Argentina - Chile) have to enjoy!

We want to offer different options and new options to explore and ski remote places!! To go and play in the snow is fun, but go safely! Knowledge of snow is a science so we strongly recommend hiring a Professional IFMGA UIAGM Mountain Guide.  

ANDESCROSS- Mountain Guides for Personalized Backcountry Skiing and Touring
Come ski with one of our professional mountain guides to experience Patagonia's pristine winter wilderness!  You can start planning your South American ski trip with Patagonia's UIAGM- IFMGA Mountain Guides:  info@andescross.com


Guided Backcountry Ski Vacation on the Island of Tierra del Fuego, Ushuaia, Argentina
Season: July to November
Duration: 7 Days (possible extension for more days)
Level: Intermediate, Advanced, and Expert Backcountry Skiers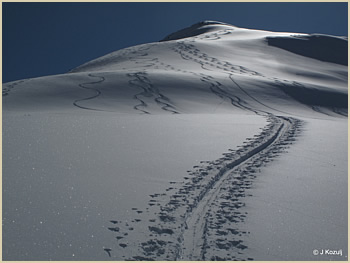 Meet the steeps at the Southern End of the World! The skiing in Ushuaia is amazing! Within a 15 minute drive from the hotel, we have access to steep couloirs/chutes, glacier terrain, and beautiful mountain summits.
  The Andes at the tip of Patagonia are rugged mountains and their dramatic sharpness continues right into the ocean.  Ushuaia reminds some of Valdez, Alaska. 
The Land of Fire is actually a snow paradise for ski mountaineering! Ushuaia, Argentina offers mellow bowls and options for all levels of backcountry skiers.  It is also possible to do multi-day trips in the backcountry, but the access from town is so friendly that it is quite convenient to do daily trips. Enjoy downhill backcountry skiing and uphill ski mountaineering every day, and return to a warm and cozy hotel every night during your South American vacation!



Day 1: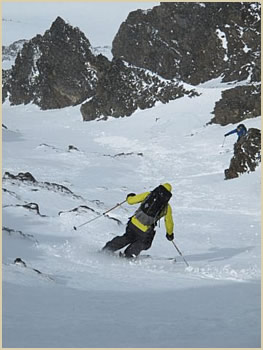 Your ski guide will pick up in the Ushuaia, Argentina airport. It is usually more convenient to fly from Buenos Aires, Argentina than Santiago de Chile. Depending on your arrival time, we can have a little tour around Ushuaia town and get to know your mountain guide.
Night in Hotel.



Day 2:
Quick drive to Cerro Castor Ski Resort, safety introduction with avalanche beacon use and protocol. Ski the resort and do some boot packs to warm up. Your ski guide will be picking fresh tracks as much as possible, and most of the day is downhill skiing.
Night in Hotel.



Day 3:
Another day in Cerro Castor Ski Resort. Again, we do mostly downhill skiing with your mountain guide looking for powder and untracked terrain as much as possible. Possible short skinning to the top of some nice backcountry lines.
Night in Hotel.



Day 4:

Today we change location and we go to the mountains that are right in front of downtown Ushuaia. The cirque of Glacier Martial offer endless options for a few days. We can pick some nice steep chutes and summits.  If we go early, your mountain guide take you to drop into other valleys and climb excellent skiing peaks to have a long ski mountaineering day and experience skiing from some remote backcountry peaks.
Night in hotel.



Day 5:
On this day we choose another peak accessed from the town of Ushuaia in a short car ride. Looking for freshies again. Ski as much as possible, steeps or mellow.
Night in Hotel.



Day 6: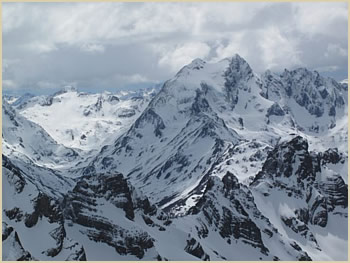 Flexible day according to weather and endurance of participants. We can choose a new peak to climb with your guide or go back to the Cerro Castor Ski Resort to get more runs in.
Night in Hotel.



Day 7:
Drive to Ushuaia airport. End of Services.



Rates: (Minimum 2 people).
Includes: Includes certified UIAGM – IFMGA Mountain Guides, transportation, all meals in the mountains, lift tickets for 3 days, and nights in hotel (3 stars).

Price does not include: International and domestic airfares,
Ski gear (possible to rent) Meals in towns, Extra drinks, tips, etc.
Price per person

2 or 3 people
4 + people
contact us
contact us

Skiing the Remote Cerro Castillo Area of the Central Patagonian Andes

Season: Late August- Early October
Duration: 7 days (possible extension)
Level: Beginner, Intermediate, Advanced, and Expert Backcountry Skiers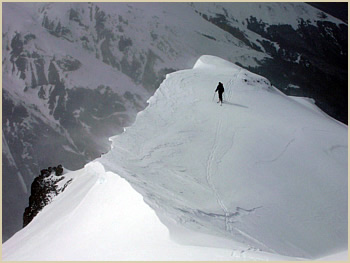 Would you like to spend your ski vacation where only a handful of people have explored? The Cerro Castillo area has remote, untouched backcountry terrain for skiers avid for adventure! This is a place where the Chilean Central Patagonia shows her solitude where only farmers and gauchos in a secluded village live the entire year. Not only is there the remarkable spirit of the remoteness in the untouched Patagonia, but it is all yours to backcountry ski with our mountain guides! Excellent and endless first ski descents, culoirs/chutes, and all kind of terrain to ski in these pristine Andes mountains of South America. Cerro Castillo is at the entrance to the Northern Patagonian Ice Cap in Chile. It is a dream land for ski explorers, expert skiers, and adventure seekers. Our mountain guides can drive up to a high Andean pass to ski tour from the car, or go for a multiple day ski expedition into the Patagonian backcountry by horse or ski touring. Join us to leave the first tracks in this remote part of the world!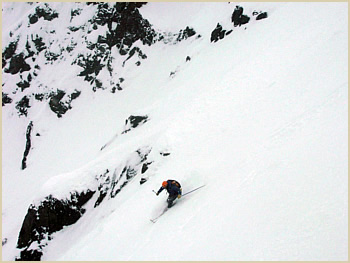 The idea of this program is to open the possibility of keep exploring the South American mountains with AT (alpine touring) gear, which means on skis or split boards! Making turns in the middle of the backcountry, in middle of nowhere!



Day 1:
Pick up in Balmaceda airport in Coihaique, Chile. Optional 14-hour drive from Bariloche, where we are based.
Night in hotel.



Day 2:
Skiing the backcountry from a high Andean pass for the day in the remote Patagonia of Chile. Offers multiple options, from mellow bowls of 20- 25 degrees, to steep terrain up to 40-45 degrees, and tree skiing.
Night in campground or Posada according to clients.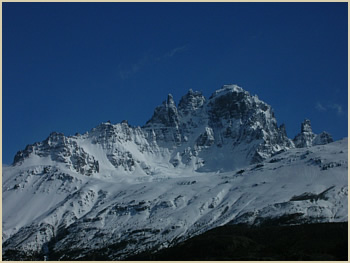 Day 3:
Another day of ski touring, skinning up and skiing some nice peaks. Possible first ski descents. Option to ski traverse between summits.
Night in campground or Posada according to clients.



Day 4:
Start moving into even more remote ski terrain with the aid of horses to carry most of our mountain gear. We'll make our base camp in a valley near Cerro Castillo below a beautiful cirque which offers endless chutes.
Night in tents.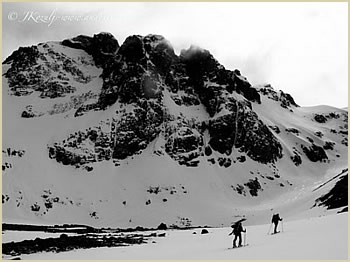 Day 5-8:
Ski tour and explore more valleys, chutes, and summits. Your mountain guide will show you new terrain to ski everyday. This is an area that was only skied for the first time a few years ago. You'll have the opportunity to have a first ski descent in Patagonia!
Night in tents.



Day 9:
Descent from alpine terrain.
Night in hotel.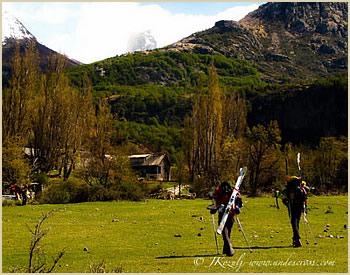 Day 10:
Drop off at airport.

*This itinerary a is guideline flexible with snow and weather conditions.

Rates: (Minimum 2 people).

Includes: certified UIAGM– IFMGA Mountain Guide, private transportation, 2 nights in hotel, horses, all meals in the mountains, avalanche safety gear, satellite phone service, and all camping gear such as tents and cookware.

Price does not include: Meals in town, Alpine Touring gear, accommodations other than first and last night (each client will pay for lodging based on preference for camping or little Posadas and we will arrange reservations).



Price per person

2 or 3 people
4 + people
US$ 2700.-
US$1890.-
*Additional days per person per day:   $150 USD

Patagonia Ski Expeditions and First Ski Descents
Jorge Kozulj, Certified UIAGM- IFMGA Mountain Guide in Patagonia
Season: September to November
Duration: 5 to 20 days
Level: Beginner, Intermediate, Advanced, and Expert Backcountry Skiers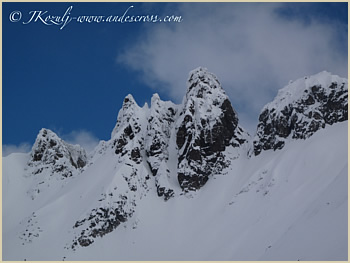 Looking for a new adventure? For unexplored terrain? To ski somewhere where few people have gone before? Or maybe nobody?

If this is what you are looking for, you have come to the right place and this is the ski guiding company for you: Andescross- Personalized Mountain Guiding in Patagonia. Skiing in South America means skiing in the Andes, and we are based in Bariloche right at the foot of them. Since the mid 90's, we have been exploring the area of Patagonia: climbing, hiking, and skiing peaks, and always on the lookout for a new spot, the next destination. We are fanatic backcountry skiers! In between the Bariloche area, the Patagonian Lakes District of Argentina, and Tierra del Fuego there is a huge remoteness that has barely been explored! Just a few kilometers south of our base, you can find excellent ski terrain: the Patagonian Ice Field has unexplored peaks all over! Mountains that have been never skied!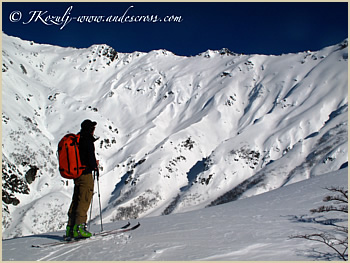 We can arrange custom exploratory ski trips and expeditions in Patagonia, with a professional UIAGM Mountain Guides to any area of the Patagonian Andes. There are beautiful, untouched peaks in Patagonia just waiting for you to make first tracks, ski some powder, and have a world-class ski adventure in South America.

Valle Hermoso in Las Leñas
Ushuaia, Tierra del Fuego
Darwin range in Tierra del Fuego
Northern and Southern Patagonian Ice Field
Cerro San Lorenzo and Cerro Castillo Areas
Even Antarctica!

With backcountry access by:
Sea kayaks
Sail boats from the Pacific into the fiords of the Andes
Horses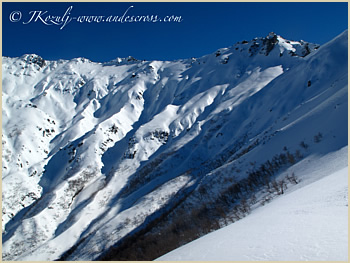 Small plane
Helicopter

Custom ski expedition trips are ideal between September and November. Clients for this type of ski touring – ski mountaineering adventure must be experienced backcountry skiers.

To request an explorative trip in the Patagonian Andes, please email me at jorge@andescross.com.
Please contact us with enough time in advance to plan a customized exploration.



Home
What is UIAGM?
Trips dates calendar
What is Patagonia?
About us
In the news
Film productions
Backcountry ski touring
Trekking
Mountaineering
Rock climbing
Heliskiing
Worldwide adventures
Mountain bike
Private guiding
Contact us
Join a Group Trip
Patagonia Trip Notes
Souvenir & Rentals
Photo Gallery
Interesting links
Versión en Español






Andescross latest news
on our blog!





Andescross team is supported by:
map name="Map2">