Guided Backcountry Skiing in Patagonia Argentina & Chile, South America
ANDESCROSS- Mountain Guides for Personalized Backcountry Skiing and Touring
Come ski with one of our professional mountain guides to experience Patagonia's pristine winter wilderness!  You can start planning your South American ski trip with Patagonia's UIAGM- IFMGA Mountain Guides:  info@andescross.com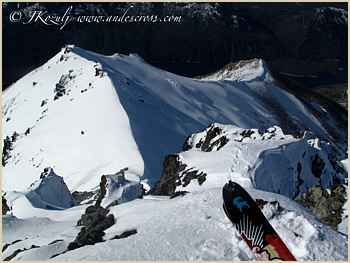 South America's Southern Andes offer excellent backcountry skiing July through November!   

Our experienced mountain guides can show you the best ski spots for backcountry skiers of all levels and interests around Bariloche, Argentina and the Lakes District of Patagonia: gentle domes for ski touring, tree skiing, glacier skiing, steep and intermediate level chutes surrounded by frozen lakes and granite spires. Many times we have deep powder waiting to be skied for days and days in the south faces of the Andes!

We want to offer our customers a personalized ski guiding service, so we choose to work with small groups of skiers.  Our mountain guides are backcountry ski enthusiasts experienced with the snow and terrain of the Andes of Argentina and Chile. We know that with a small group of skiers everyone has more fun and enjoys the backcountry safely without overburdening the pristine environments of Patagonia.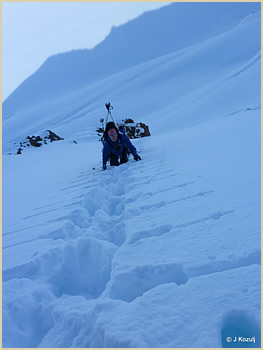 All of our guided backcountry ski touring excursions include: transportation, meals and lodging in the mountains, avalanche safety gear, and a fully-certified bilingual mountain guide.

What you'll experience on these guided ski trips in Patagonia is the chance to ski in pristine areas, leaving chairlifts and crowded resorts far behind you. You'll descend into untouched valleys where no one but your mountain guide, you, your friends, and maybe a wild hare will lay tracks. Even the climb up, with the help of skins on your skis, is as much fun as the descent since it allows you to access unexplored areas. These are places you've always dreamed of skiing!  Our mountain guides will bring you to Patagonia's hidden ski spots.

On our multi-day guided ski excursions, you'll spend your days ski touring and your nights in Patagonia's typical backcountry lodges.  These cozy mountain huts for skiers are designed in a traditional rustic alpine style and offer excellent cuisine. You'll wake up to fresh air and the white Andes Mountains awaiting.

Please remember, knowledge of snow is a science! To enjoy backcountry skiing safely, it is very important to go with a certified guide. We strongly recommend hiring a UIAGM-IFMGA Mountain Guide familiar with the Patagonian Andes and taking a Recreational Avalanche Course prior. 

Check more photos about backcountry skiing in Argentina, click here   
The A Factor from Christopher Rubens on Vimeo.
Guided Backcountry Skiing Day Trips in Northern Patagonia, Argentina

Guided Backcountry Skiing Multi Day Trips in the Patagonian Andes of
Argentina and Chile, South America
These are just a few of our favorite guided backcountry skiing trips around Bariloche, Argentina and the Patagonian Andes of Argentina and Chile.  If there is any ski touring excursion that you would like to do in Patagonia, but you can not find it on this web site, please just let us know, and we can arrange it for you!

Please contact one of our experienced ski guides at info@andescross.com



Home
What is UIAGM?
Trips dates calendar
What is Patagonia?
About us
In the news
Film productions
Backcountry ski touring
Trekking
Mountaineering
Rock climbing
Heliskiing
Worldwide adventures
Mountain bike
Private guiding
Contact us
Join a Group Trip
Patagonia Trip Notes
Souvenir & Rentals
Photo Gallery
Interesting links
Versión en Español






Andescross latest news
on our blog!





Andescross team is supported by:
map name="Map2">