Trekking in Andes of Patagonia Day Hikes and Multi Day Hiking Adventures
Andescross Personalized Mountain Guiding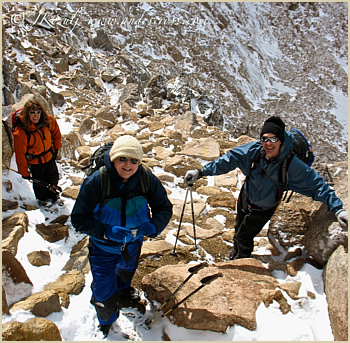 Breath deeply, listen to the river, and feel the fresh mountain air in your face while you hike through the pure, untouched landscapes of Patagonia in Argentina. Simplicity is the beauty of trekking.

Hiking along the valleys and ridges of the mountains of Patagonia near San Carlos de Bariloche with just your backpack. With your mountain guide, you can search for new spots, find an alpine lake, cross clean and clear rivers, and watch Andean condors float in the winds above the peaks.

Our Professional Mountain Guides would love to share with you how much the Patagonian Andes of Argentina and Chile have to offer to trekkers: dense Valdivian forests, hanging glaciers, turquoise rivers, waterfalls, diverse flora and fauna, and dramatic summits.

The National Parks of Patagonia are very diverse and on some of our guided excursions we take a lake crossing or go by horseback to access remote terrain. Nights on multi day guided hikes will be spent in quaint backcountry huts or tents according to the trekking trip.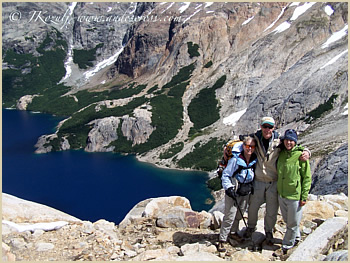 We have chosen to guide small groups so we can offer our clients personalized trekking adventures in Patagonia. This way we can work with your vacation schedule and move at your pace.

Small groups allow our mountain guides to give you personal attention, while practicing safe mountaineering, and without overburdening the pristine environments of Patagonia. All of our guided hikes include transportation, a certified professional and bilingual mountain guide, meals in the mountain, and equipment such as tents, glacier travel gear, cook wear, etc.

Curious about hiking in Patagonia? We'd be happy to share our passion with you! Contact us at info@andescross.com


Day Hikes in the Lakes District of Northern Patagonia
Short Multi Day Treks Near Bariloche, Patagonia, Argentina
Multi Day Trek traverses Near Bariloche, Patagonia, Argentina
These are only few of our favorite multi-day guided hiking and trekking options in the Bariloche area of Argentina that we have to offer with our Professional AAGM or IFMGA UIAGM Mountain Guides. There are endless possibilities for day hikes in the Andes of Northern Patagonia. We are based in Bariloche, but we can also arrange a customized guided hiking trip to the areas of Lanin National Park, El Bolson, Trevelin, Esquel, San Martin de los Andes, or near the Chilean border at Paso Puyehue, among many other places a bit more remote to avoid crowded trails and get off the beaten path! Andescross also has mountain guides available in Southern Patagonia, El Chalten (Fitz Roy and Cerro Torre area) and El Calafate for multi day trekking and backpacking. Please contact one of our experienced mountain guides at info@andescross.com.




Home
What is UIAGM?
Trips dates calendar
What is Patagonia?
About us
In the news
Film productions
Backcountry ski touring
Trekking
Mountaineering
Rock climbing
Heliskiing
Worldwide adventures
Mountain bike
Private guiding
Contact us
Join a Group Trip
Patagonia Trip Notes
Souvenir & Rentals
Photo Gallery
Interesting links
Versión en Español






Andescross latest news
on our blog!





Andescross team is supported by:
map name="Map2">