Choosing Your Mountain Guide in the Andes of Argentina - Chile, Patagonia


If you are preparing for a ski touring, mountaineering, rock climbing, ice climbing, or backcountry trekking trip, choosing a guide should be the most important thing!  Since these activities involve some risk, it is essential to choose the right mountain guide to enjoy a safe trip.


How to choose your Mountain Guide:
Choosing a Mountain Guide in South America demands some research.  This is a profession that has recently boomed and developed mainly along the last 15 to 20 years in the Andes of Patagonia.  Today, there are many companies offering tours in different mountain activities in the Patagonian region with guides of varying qualifications.
Look for these Logos:

UIAGM- IFMGA- IVBV Mountain Guides are internationally qualified to guide mountaineering, alpine ascents, through glacier terrain, rock climbing, ice climbing, and backcountry ski touring.
AAGM Mountain Guides are qualified to guide hiking and trekking up to 3rd class climbing in any season. With the Asociación Argentina de Guías de Montaña, Argentine Association of Mountain Guides, these mountain guides are titled "Guías de Trekking en Cordillera", "Trekking Guides".  


What is a UIAGM certification?
The UIAGM- IFMGA- IVBV (Unione Internazionale di Asoc DI Guida DI Montagna-International Federation of Mountain Guides Association- Internationale Vereinigung der Bergführererbände) is the highest recognition  awarded to Mountain Guides all around the world.

This association was created in 1965 in Zermatt, Switzerland and its purpose is to standardize worldwide the recognition, regulations, and training of the Mountain Guide occupation.

Worldwide, there are around 6000 Mountain Guides certified by this association. To guide in France, Italy, Switzerland, Austria, and Canada it is a LEGAL REQUIREMENT!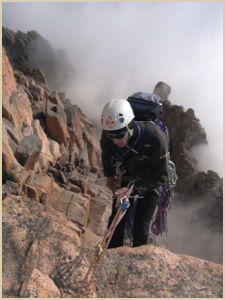 The Mountain Guides who hold a UIAGM-IFMGA-IVBV certification have gone through extensive evaluative courses, exams, and intense training. They fully dedicate themselves to mountain sports in all aspects: rock and ice climbing, mixed and alpine climbing, glacier travel and rescue, ski mountaineering, off and on piste skiing, radio communications, topography, avalanche training, and first aid wilderness medicine.
UIAGM -IFMGA- IVBV Mountain Guides are the only professionals internationally recognized to teach mountaineering or guide people through the mountains. Ask your guide for his/her valid UIAGM-IFMGA- IVBV card or pin.
As of 2011, Argentina has only 20-30 Mountain Guides who hold the UIAGM-IFMGA- IVBV Certification!
Other Mountain Guiding Services in Patagonia, Argentina: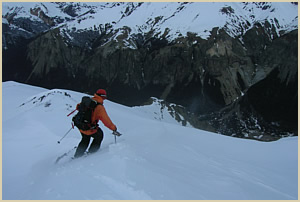 Most professional guides in Patagonia have a positive relationship with their colleagues/competitors.  If you are recommended to a competitor, it is a good sign for both of the guiding services.

It is also nice to mention that there are excellent guides who are not yet certified, and some of them have been pushing their limits as sportsmen and alpinists doing amazing climbs and mountain ascents. Their background and practical knowledge is an accumulation of mountain experiences and challenges, and this leads to an understanding of the mountains essential for a skilled guide.

It is best to try to hire a certified guide first, but if it is not possible, the best way to know if this uncertified guide or company has the right knowledge, experience, and professionalism is to ask for referrals from a reputable source.

Ask for:
What are the company's guiding training requirements?
What are the company's medical training requirements?
Will the guide or company provide a list of previous clients as a reference?
How long has the person been guiding or how long has the guide service been in operation?
Has the company had any accidents, and if so, why?
The Profession of Mountain Guide:

Mountain Guides have the responsibility to guide their clients through mountain terrain (ice, rock, snow) finding the best route and using their training and experience to make the correct decisions according to terrain, objective dangers, weather, and the make-up of the team.

Mountain Guides are trained to be able to guide in places where they have never been before. Sometimes it is very exciting for the guide and client to travel to a new place and do research for a new peak or new mountain area. 

Please feel comfortable asking us about a new itinerary or area.  This is what we love most: to research and explore new mountains!




Home
What is UIAGM?
Trips dates calendar
What is Patagonia?
About us
In the news
Film productions
Backcountry ski touring
Trekking
Mountaineering
Rock climbing
Heliskiing
Worldwide adventures
Mountain bike
Private guiding
Contact us
Join a Group Trip
Patagonia Trip Notes
Souvenir & Rentals
Photo Gallery
Interesting links
Versión en Español






Andescross latest news
on our blog!





Andescross team is supported by:
map name="Map2">